Every New Year's Eve, we love to celebrate with loud music, firecrackers, or fireworks to welcome a fresh start and ward off bad luck! For sure, this is fun and enjoyable for you and your friends and family; however, our dogs do not feel the same way! 
This exciting time for us can be really stressful for your dogs with all the noises and new people who they did not meet before. So, for your dogs to celebrate with you without any issues, it is better to prepare them! 
With these five (5) effective ways to prepare your dogs for New Year's Eve, you and them will surely love this once-a-year celebration!
1. Make a safe space for your dog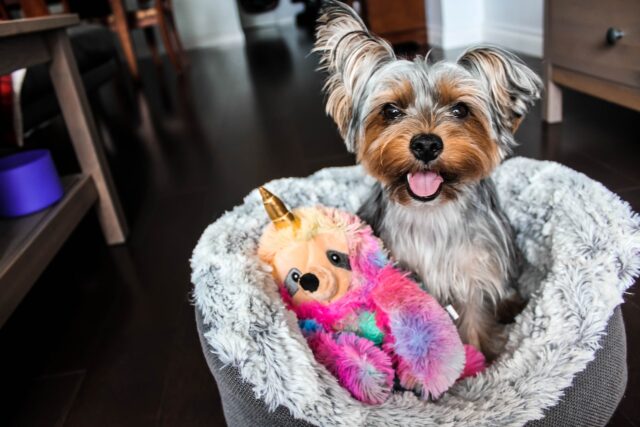 Setting a special spot for your dog can be a great idea! In this special spot or space in your home, your dog should be free to hide and feel safe. Put some comfortable sheets, cute blankets, and smooth pillows in there. If it is possible, these things should smell like you. Of course, don't forget to add their favorite toys! 
This spot should be potentially far from any happenings during the celebration, especially far enough from loud noises. So, whenever they feel anxious and overwhelmed during New Year's Eve, they can go to this safe spot and feel relieved. 
2. Leave yummy treats in your dog's bowl
Before you party with friends and family at exactly 12 midnight, you better leave some yummy treats in your dog's bowl. As treats for your dog are associated with a positive reward, this can be a form of distraction for them. Just don't be surprised when you see that your dogs did not eat them because stress can cause appetite suppression. 
3. Drain your dog's energy by playing or exercising them
Take your dog outside—play or exercise with them on the day of New Year's Eve. The goal is for your dog to feel tired at the end of the day to take all their energy away from anxiety and fears about what to happen in the evening. By doing this, your dog is probably asleep during the celebration, and you just need to wake them up when it's time for a family photo! 
4. Turn on a piece of classical music!
Some studies suggest that classical music can be relaxing for dogs. You may want to consider playing classical music during the countdown, especially since this is the time when people start to light the fireworks and make other loud noises. This is for your dog to relax and focus on this music instead of the noises outside. Also, as you choose your special spot for your dog, it is better to close the room's windows and doors during the countdown. 
5. Ask your veterinarian for your dog's medication 
Not all dogs behave the same way. If you know that your dog is hard to sway and you have tried everything, especially the ones mentioned above, it is time to seek help. Your last resort is to ask your veterinarian for some medications or a dietary supplement for your dog to temporarily manage their stress and anxiety. Do not hesitate to contact them and ask so that you can help your dear pet handle this stressful event.